Bui Ngoc Tu's Style
Artist Bui Ngoc Tu was born in the contryside of Vu Ban, Nam Dinh, where hometown of the talented people in early modern Vietnam culture that full of Poem Literature Music Painting. There are the talented people that thier names went to the history as a lasting imprint in the memories.
We were admired Nguyen Binh with rustic, country bumpkin poetry soul permeates the neighborhood. A candlelit witty intoxicated poetic voice of Vu Hoang Chuong, a musician untimely Dang The Phong to sob Autumn raindrops, a wandering artist with the Hoang Lap Ngon with Indestinct rolling House is along so engrossed in the movements spread the interesting conversation among fiends. A gentle Tu Xuong is sudden transition even in the old society-new early twentieth century. And Bui Ngoc Tu cannot escape the strong investment gorgeous spread from the giant that of his homeland to make a big name in autumnal still passion, hope.
He graduated from Ha Noi Fine Arts University academic year 1969-1973-a gold school year of a curriculum of schools. Being taught by the professor masters Tran Van Cao, Nguyen Tien Chung, Tran Dinh Tho, Pham Van Don on lacquer , a masterial that the artist Nguyen Gia Tri has spent a lifetime looking to leave a legacy for generation  to massive student receptive and creative in thier learning path. Bui Ngoc Son is one of those hardworking students diligently to reach a true substance of a kinky, aristocratic own a painting corners magical Asia. And as a random karma, similar to Nguyen Gia Tri has spent a lifetime looking to leave a legacy for generations to massive student receptive and creative in their learning path . Bui Ngoc Tu is one of those hardworking students diligently to reach the true substance of a kinky , aristocratic own a painting corners magical Asia . And as a random karma , similar to Nguyen Gia Tri abandoned village in Chuong My Ha Tay to live a quietly life among brilliant Saigon and full of sunny southern land of tropical wind but still draw on a North Land nostalgia painted on familiar sheets . Bui Ngoc Tu say goodbye Hanoi to find Southern studio windy seasons and still remember the Village Festival to be loath to part with scarf and skirts , Love duet night a image of Returning home to pay thanks to ancestors after achieving academic honors at old Southern land at the time of final Han school examinations . They both want to live on a plate painted memories - memories of a Vietnamese culture longevity , sustainability .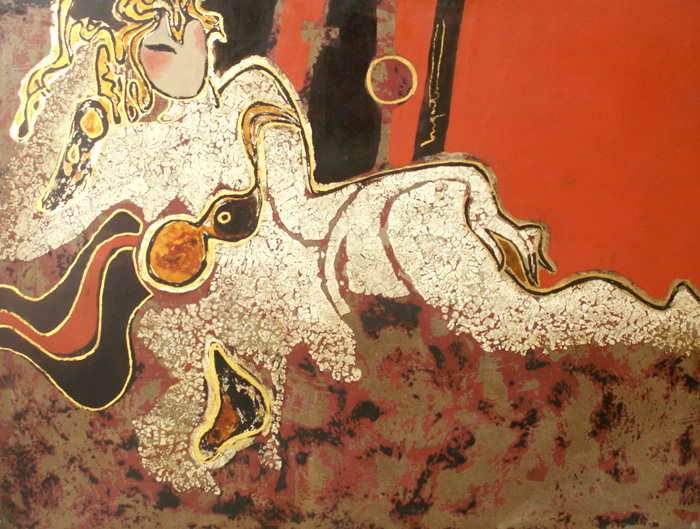 "Nude " by Bui Ngoc Tu
Reviewing the work of Bui Ngoc Tu collection we find the sound flow of colors of any form of painting style tones Bui Ngoc Tu lacquer to give a passionate liberal language makes this material into pieces fertile ground for artists unleash emotions endless maneu .
With magnificent golden religion , eggshell lacquer profusely deep harmony interaction , improvisation through several levels : Beating debris , threw and scattered , repressed , gathered ... then danced jubilantly on bare shoulders girl in the painting summer in the picture Rhyme Song, Sunset, Phobias. In the dream of Miss kieu, subtle lullabies at Chinese four -chord lute Song at karma.
Bui Ngoc Tu have read more unusual the art of lacquer ancient instinct had not seen things through the eyes of European telecommunication access only but still carrying the depth deep space  Memories. He put on his work. However, the relationship did not mind that the display of the will, therefore the Ancient aroma of Ha Noi, Song of communal house in the village, menstruation Costumes, Lotus Aroma, Village Festival, which shown on large sheets of lacquer to work pretty package of Sadness, Phobias, Song rhyme, song of Walking on the countryside laden memories, the formation of ghostly, man, woman, Woman with horse is curious, sexy, wild in the abstract space is also inlaid with shell or just the familiar gold.
"The Moonlight Night" by Bui Ngoc Tu
We temporarily take away the lacquer panels splendid golden scales, lacquer abyss to abyss once every hour watercolor painting by Bui Ngoc Tu in Rhamnoneuron paper was from this pinting lacquer to build sustainably. It feels Bui Ngo Tu drawing in Rhamnoneuron paper more flexible, more aggressive boys and girls in the subject faux pas, fertility so that the viewer enters the world of chaos mankind, to see whether there are transient, but the deep of semantically rich in familiar folk. But on the shape itself, breast about Siamese clothes, men women catch crabs and snails, buffalo, fly a kite in the Han diluted ink pen streaks spreadon a sheet of paper with the advent of wake fulness... Bui Ngoc Tu led the viewer to a wild world that there is a region free.
And I love, cherish his work. Thank Bui Ngoc Tu.
By Nguyen Hai Yen - Researches Art Criticism