Life Of Famous Artist To Ngoc Van
To Ngoc Van was born in Hanoi in 1906 into a poor family. His childhood was spent in poverty, both material and emotional. as his mother, "a poor stork", kept moving from one marketplace to another all year round to earn a living. Life became more difficult at the age of six when both his father and mother had to go back to their homeland in the countryside, leaving him with his grandmother and aunt who looked after
him during his studies in Hanoi. Van was very fond of studying, however he had to save every penny given by his mother when she dropped in tosee him, to spend on books. The life of a poor schoolboy silently passed by until he was out of his teens.
In 1925, the Indochinese Fine Arts College was established in Hanoi. InTran Van Can's words, after contacting a number of students on the first course, "Van became acquainted with painting and was entirely attracted by it". One year later, when Van finished his third year of studies at the Protectorate secondary school, he left to pursue an artistic career. Passing exams for the second course of the College, his talent soon drew a lot of attention. Dynamic and keen to learn he was compelled by his love to art to read every book, magazine or newspaper article related to arts that he was able to get his hands on. Each picture, be it a folk print of Dong Ho or Hang Trong, a Japanese wood carving, a Chinese watercolour, an Ajanta fresco, a modern Western painting by Manet,Gaugin, Van Gogh or Matisse, filled the soul of the art-loving young
man. He studied oil painiting but he also tried other mediums such as silk painting, wood carving and frescoes.
Graduating from the Indochinese Fine Arts College in 1931, To Ngoc Van was passionate about the beauty of the diverse spectrum of colours. His skills had been perfected, his later style was basically established.
There was a keen sculptor in him who was very sensitive to full, round and graceful figures, especially to the beauty of the female form.
He graduated in the year of economic crisis and began doing a new job in the contemporary society, To Ngoc Van, life was not easy. He had to teach painting at a private school and even did advertisement designs
for some business firms, although his techniques for fresco acquired during the academic years had a chance to be tested.
In 1935, To Ngoc Van was assigned to teach at the Sisovath secondary school in Phnom Penh (Cambodia). Out of teaching hours, he was very keen on painting the landscapes, the pagodas and the people there. In
1939, he returned in Hanoi and taught painting at the Indochinese Fine Arts College. The years between 1939 – 1942 marked a productive period of artistic creation prior to the August 1945 Revolution. It was also
the period in which he most specialised in oil paintings.
His paintings were put on show even in the early days of his career. Whilst studying at the College, his paintings were exhibited at an artgallery in Saigon in August 1930 by the artists of the Indochinese Fine
Arts College. Besides work by Le Pho, Mai Trung Thu, Vu Cao Dam and others, were To Ngoc Van's paintings which were greatly admired owing to his beautiful style.
Later, To Ngoc Van had his paintings displayed at the art exhibition organised by the Society for Arts and Industrial Development (SADEAL) in
Hanoi in 1935. At the SADEAL arts exhibition in Hanoi in 1936, the public had an opportunity to enjoy his work, showing a real talent for
making use of colour.
In his article "New Hopes for Paintings at this Year's Exhibition" (1937), the Artist Nguyen Do Cung remarked: "Besides the new painters, again we see the faces we met last year with changes, big or small. But
every one of them has brought new hope for the future to do away with the notion that we can never be able create inspired artwork. However,To Ngoc Van has already let us enjoy a mature, influential and vigorous art".
The exhibition in 1937 could be seen as the last show of To Ngoc Van's landscape paintings.
In 1944, he joined the FARTA group to exhibit his paintings. This was his last show before he went to Son Tay and taught painting there. At this exhibition, the public of Hanoi were given a chance to enjoy his
new painting paintings that had just been completed such as "Young Girl by Lilies" (1943), "Young Girl by Lotus" (1944); "Two Young Girls and a Baby" (1944). These works marked the height of his oil paintings which worthily represented Vietnamese oil painting before the August 1945 Revolution.
After the revolution, the elite of Hanoi and the first of the great modern Vietnamese painters set off at the request of the revolutionary resistance.
In 1945, after the success of the revolution, the new government assigned To Ngoc Van an important task, to restore the Fine Arts College. There were numerous difficulties in those early days since he
had to take over a base that was heavily ravaged by the occupations of the French, Japanese and Chinese Nationalist troops. But no sooner had the students began their study, than they were forced to stop
temporarily by the outbreak of the War of Resistance against France.
To Ngoc Van left Hanoi for the liberated area and joined the artistic circle in the new life where he devoted all his talent and experience to make his contribution to the long war.
In many places, from the Central Highlands to Viet Bac (Northern Vietnam), an apt and pleasant artist was seen at times painting a posteron a patch of wall to inspire the resistance; masking and decorating a
folding stage; printing leaflets under a curtain of jungle leaves; running the Resistance Culture Group; or managing the reorganisation of the Fine Arts College (1949-1950).
He lived amid his compatriots, sharing every joy and sorrow with the ordinary people, with the combatants and with hard-working farmers, who brought him the inspiration to create new works of art such as "Hanoi
Rose up" (1948), "Evacuators in the Forest", "Enemies Came and Went" (1949) and "Medical Maid"(1949). These works signalled the initial changes taking place in him. His themes and characters began to change,
getting more dynamic and lively, and focusing on depicting action.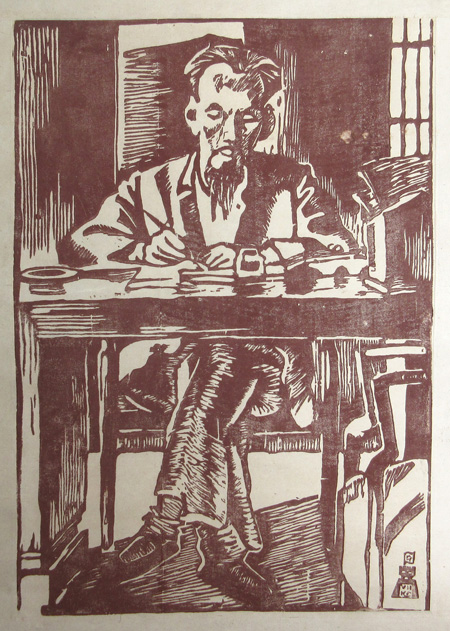 To Ngoc Van experienced the vivid life of the resistance of the Vietnamese people and identified the dialectical relationship between reality, perception and art. The daily realities of the resistance left deep imprints in his heart and mind. In his article "Propaganda Posters and painitng" in 1947, he wrote: " I am now thinking of paintings which depict the images and colours of the resistance which echo in the mindof the artist The form of a militiaman is different from that of an ordinary man because of the rifle he wears, his earth-coloured complexion and his sudden appearance and disappearance under the interwoven leaves of the jungle, full of birds' twittering. And the mixture of this image with the mountains and forests brings about so much passion"
To Ngoc Van was an example of a person with a persistent, striving will. In his capacity as Rector of the Viet Bac Resistance Fine Arts College, he reminded his students to "match study with practise" as he himself
always did.
During their fact-finding missions to see the working people, both teacher and students painted right on the spot, strengthening the connection between the masses and the artists.
A series of To Ngoc Van's paintings of landscapes and lives in north-western Vietnam (Tay Bac) depicting a Thai ethnic girl, a female teacher by the house on stilts, a horse eating by the stable, pigs andchickens in a courtyard, mountains and clouds, water springs, ancient banyan trees, strangely shaped stones, the hilly trails leading columns of soldiers and people's labourers with loads on their shoulders or onbicycles to the battlefield of Dien Bien Phu are unforgettable. His sketches of the north-western campaign such as "Rest by the Forest", "Marching through the Pass" and "Marching across Spring" depicted the splendour of the people's soldiers through vivid images and strokes, full of fine emotion.
In early 1954, To Ngoc Van set out on a new trip. As the artist Tran Van Can recalled: "Full of confidence and enthusiasm, he suggested we should hold a farewell party. He wished to be directly involved in the fierce fighting at Dien Bien Phu. Our troops gained a resounding victory, however the French bombers launched heavy bombardments along the roads to the battlefield in an attempt to save their troops trappedin the Dien Bien Phu valley. Tragically, To Ngoc Van was killed in an air raid. Upon hearing the sad news, we tried not believe it was true, hoping he was able to hide somewhere during the bombardment".
Not until Nguyen Dinh Thi and some other combatants came back from the battlefield, bringing his rucksack and his painiting folder, did we despair.
The folder was carefully wrapped in a piece of raincoat. It was his! He was as careful as he had always been. He'd rather get wet than leave his sketches and folder improperly covered. The folder was opened and
among the sketches he made along the way to the battlefield was one with stirring strokes dated 15-6-1954. The sketch depicted our troops marching through Lung Lo pass, the last painiting of his life!
To Ngoc Van was unfortunately killed on his way to Dien Bien Phu at the age of 48. Forty two years have passed since, but when reading through the pages of his writings, one cannot help being deeply moved by the simple and sincere words of a clear, honest soul and his deep concern for the future of the national arts.
To Ngoc Van is no more. However, he remains a bright example of ardent patriotism, devotion to work and love of life. And especially, the strong and persistent will to change himself so as to change his artistic notions. Had his career not been interrupted half-way through, he would have been able to turn his great volume of documents and sketches into great paintings of the War of Resistance. His paintings of Uncle Ho and his collection of sketches of farmers and the resistance soldiers were breathtaking.
To Ngoc Van was one of the first artists who assimilated Western methods in a creative way, and combined them with his inheritance of national artistic traditions. He left us a number of works of high artistic value.
A profound and talented painting To Ngoc Van was also an excellent organiser. His work for the cause of training of a young generation of artists was a great contribution to the country.
To Ngoc Van was a genuine painting and a fine representative of the modern painters of Vietnam. He was also a great teacher and an inspiration to the modern Vietnamese artistic community. He was posthumously given the highest national award for art and literature – the Ho Chi Minh Prize.
By Trieu Thuc Dan