Veteran artist Tran Luu Hau passes away at 92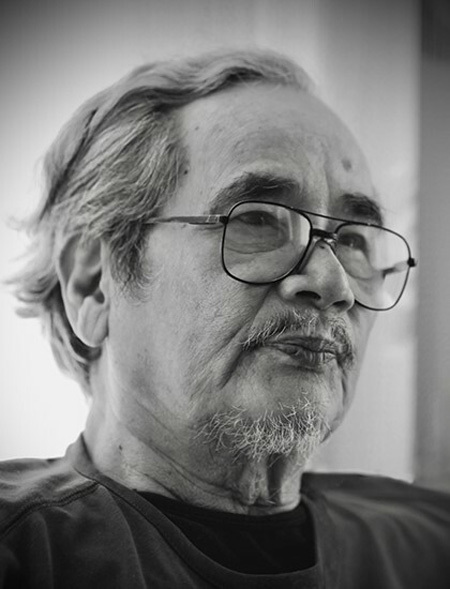 Artist Tran Luu Hau. Photo Tran Luu Tuan
"Two weeks ago, some of his colleagues and former students visited him and he recognised each one," said his son Tran Luu Tuan.
Hau was one of the first artists to study fine arts from 1950-1954 in Viet Bac, north of Hanoi. He graduated theatre design from the Surikov Moscow Art Institute in 1960.
"I was lucky to be one of his students. He was very talented and had many good students," said Master of Fine Arts Nguyen Ngoc Long, Deputy-Principal of Vietnam Fine Arts University. 
He taught at the university from 1962 to 1988 and was chairman of the Vietnam Association Fine Arts' Art Council.
His work covered different styles, but he was known for using primary colours in abstract art. He painted different themes, including national resistance, landscapes, streets of Hanoi and still life.
"He was recognised by many established artists," said artist Vu Lam. "He encouraged their creativity and supported them to have a fresh aesthetic conception and personal viewpoint."
Artist Hau inspired many established artists such as Thanh Chuong, Pham An Hai, Doan Van Nguyen and Pham Luc.
"He was a master to me," said Chuong. "He was my teacher, my friend and my older brother who I really loved and respected. Each time I met him, I always learned something and I was forced to do better."
"He always inspired younger artists to create art."
His works have been displayed at international exhibitions and museums in France, Germany, Singapore, Russia and Hong Kong. His paintings are in private collection in Vietnam and other countries.
His paintings Vinh Ha Long (Ha Long Bay) and Cô Gái H Mông Dệt Vải (H Mông Girl is Weaving) are in Vietnam Museum of Fine Arts' collection.
He had his first solo exhibition in Paris in 1991 and in HCM City in 1994. He was a prolific artist with thousands of paintings. At the age of 84, he had an exhibition in HCM City showing 40 paintings of flowers.
At the age of 87, he debuted 25 nude paintings in Hanoi. He won the State Award in Literature and Arts in 2001. — VNS
"Still Life" - Acrylic on canvas by Tran Luu Hau